Honolulu, HI Dental Implant Services
Do you have one or more missing or severely damaged teeth? If so, then dental implants from Dr. Dino Dee DDS Inc might be just right for you. Dental implants are a fantastic and highly recommended way to restore your damaged smile to a picture-perfect smile you can be proud to show off once again. Read on to learn more about what dental implants are and why you should call our Honolulu dentist Dr. Dino Dee and ask about them today.


What Are Dental Implants?
Dental implants are dental devices that are used to replace one or more missing or severely damaged teeth with a new structure that closely resembles the look, feel and function of the natural tooth. Dental implants consist of three parts: a titanium screw that is placed into the jaw bone, a crown to replace the tooth on top, and an abutment to hold the other two pieces together. The result is a new tooth that looks and feels just like your own original teeth.


How Many Teeth Can Be Replaced With Implants?
You can replace a single tooth, multiple teeth or all your teeth with implants. You don't even need one implant for every missing tooth. As few as two implants can support a removable lower denture, while as few as four implants can provide a full, permanent set of top or bottom teeth.
Full Mouth Dental Implants Honolulu, HI
Full mouth dental implants use four or more implant fixtures to hold an entire arch of teeth in place. Also known as implant-supported dentures, full mouth implants are usually permanent, but can also be used to hold a removable denture in place. Permanent full mouth implants remain in your mouth at all times and can be adjusted by your Honolulu, HI dentist, Dr. Dee. Patients should take out and soak their implant-supported removable dentures each night before going to sleep. Permanent implant-supported dentures do not need any soaking or extra care.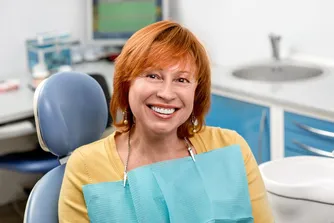 Can Anyone Receive Dental Implants?
Dr. Dee will be happy to discuss whether you are a good candidate; however, there are some limitations. You must be in good health and have the proper bone structure and healthy gums for the implant to stay in place. People who are unable to wear dentures may also be good candidates. If you suffer from chronic problems, such as clenching or bruxism, or systemic diseases, such as diabetes, the success rate for implants decreases dramatically. Additionally, people who smoke or drink alcohol may not be good candidates.


What Can I Expect During This Procedure?
The bottom part of the implant, which looks like a screw, is placed in your jaw during a simple in-office procedure at Dino Dee DDS. Local anesthesia will be used to numb the area. The screw is made of titanium, a material that is biocompatible, meaning your body won't reject it. The gum is then secured over the implant, which will remain covered until it fuses with the bone. This usually takes about 3-6 months.
Once the implant screw is firmly embedded in your jaw and the tissue is fully healed, Dr. Dee uncovers the implant and attaches an extension, or post, to the implant. With some implants, the implant and post are a single unit placed in the mouth during the initial surgery. Finally, your Honolulu dentist Dr. Dee makes an artificial tooth, or crown, that is attached to the implant post. It will be as if you never lost your tooth.


How Long Does The Process Take?
The process can take up to nine months to complete. Each patient heals differently, so times will vary. After the implant and posts are placed surgically, the healing process can take up to six months and the fitting of replacement teeth no more than two months. Sometimes, if a patient has good bone quality, posts can be placed and replacement teeth fitted in one appointment.


Benefits of Dental Implants
Unlike other dental restorations, implants are designed to be permanent. Once they have healed successfully, they are virtually indistinguishable from your natural teeth. Like natural teeth, they require meticulous oral hygiene, regular dental exams, and professional cleanings to help prevent infections and gum disease.
Implants are the only restoration that help to prevent bone loss in your gums. An implant can be used to replace a single tooth, or a set of dentures — with just a few implants! If you are in good overall health and have enough bone density, dental implants may be a good option for you.
Another important benefit of dental implants is that they help you retain the fullness and contours of your face, especially your firm jawline. Your body produces more bone to fuse with the implant and the increased bone production fills out your facial contours. You won't have the sunken, sagging look of someone who wears dentures for a long time.
Are you interested in replacing missing or damaged teeth with dental implants or getting full mouth dental implants?
Call Dr. Dino Dee DDS, your dentist in Honolulu, HI, today at

(808) 942-8877

to learn more or book an appointment!